Insights
US Election – Where are we now
04 November 2020
The US election looks to be going down to the wire, with Donald Trump holding a very slim advantage as many battleground states are yet to be called. The night started with optimism for the Democrats, who believed they had a chance of claiming Texas for the first time since 1976, but this was quickly dashed as it was revealed that Texas and the key battleground state of Florida would be won by Trump. The narrative quickly turned, and most betting websites flipped the odds to favour a Trump victory over Biden.
At time of writing, Trump has claimed victory in the 'bellwether' state of Ohio, which has successfully voted for every president since 1964, and North Carolina. Biden did gain a surprise victory in Arizona, due to its changing demographics favouring Democratic policies. Trump has the lead, but there are still more possible ways for Biden to win the election compared to Trump due to his slight lead of 238-213 Electoral college votes.
The election, as expected, will be decided by the 'Blue Wall' of Pennsylvania, Michigan and Wisconsin. Biden only needs to win two of these (or one if he wins in Georgia) to claim the presidency. Trump won all three states in 2016 by less than one percent and currently leads in Michigan and Pennsylvania where roughly 80 percent of precincts have reported. Mail-in ballots are counted after in person votes, and so a Trump lead so far is in line with expectations. However, what was not expected was such a large lead for Trump, especially in Pennsylvania with its valuable 20 electoral college votes.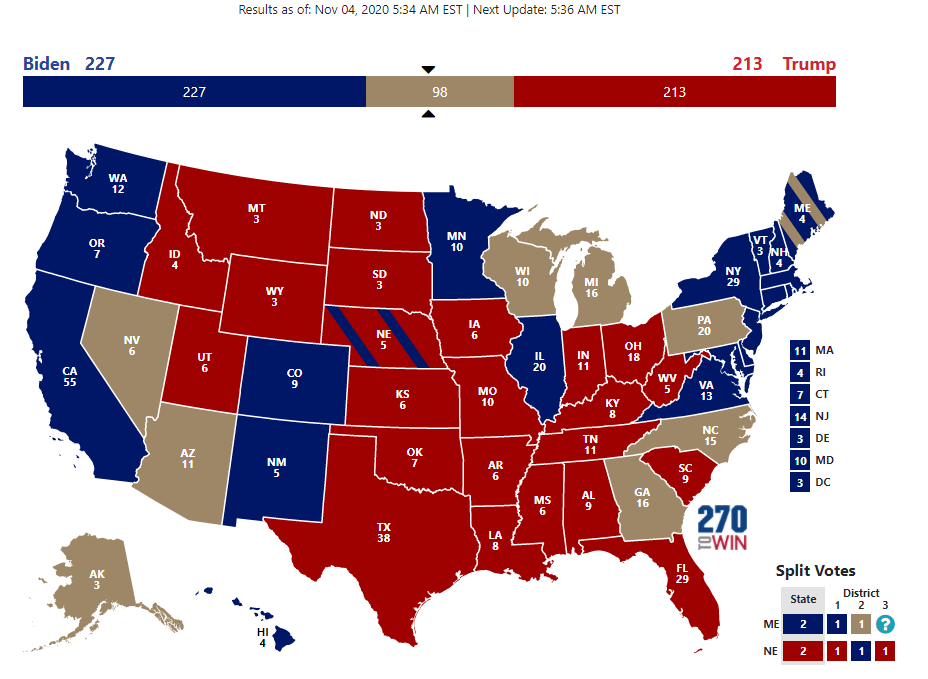 Figure 1: US Presidential Map, not including Arizona which has been called by AP news
As vote counting continues, Biden will most likely recant some of his losses, due to the 'Blue Shift' phenomenon whereby mail-in ballots generally favour Democrats historically. It is undetermined, however, whether Biden will have enough support to overtake Trump. Senior officials in the 'Blue Wall' states believe that we will have to wait a while for an official result, and Pennsylvania could be confirmed as late as Friday, which has led to incredibly volatile markets.
Markets
Throughout Tuesday, stocks were rising as well as currencies against the dollar on the expectation that the US election would result in a 'Blue Wave'. The pound hit a 12-day high just before Fox News announced that Trump had won in Florida, and then, in line with expectations, the dollar started to rise along with a fall in Treasury yields. This is because an increase in the chance of a Trump victory signalled a risk-off mood for assets for two major reasons. One, is that it reduces the chance of a hefty fiscal stimulus bill from Biden which would help investors, and two because it meant that there was a possibility that the election could be 'too close to call' and would lead to a volatile few days where markets would not be able to price in who is the US President. As it happens, this scenario has played out.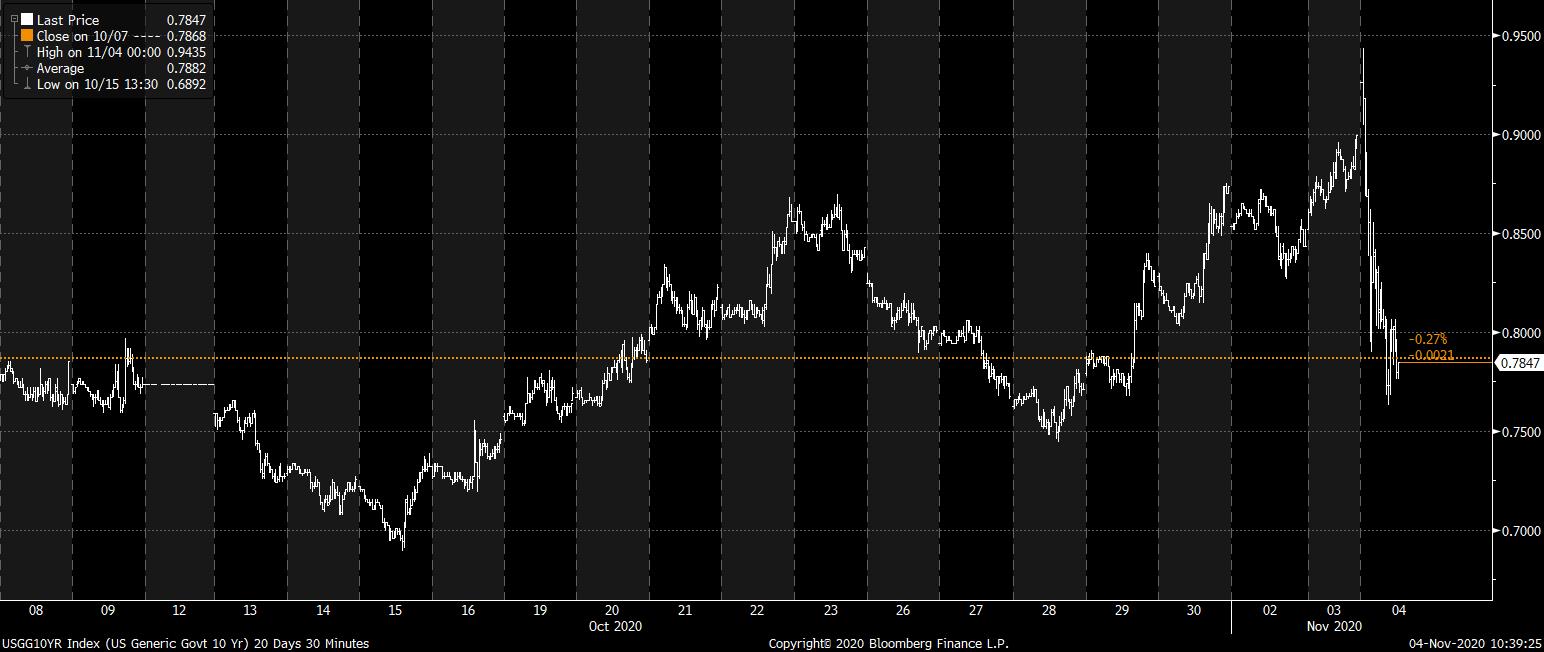 Figure 2: US 10-year treasury yields, dropped 10 basis points when Trump won Florida
Counter-intuitively, US stocks have risen, although they have also been very volatile. Tech asset prices have increased the most, and analysts believe that this is actually a signal for a risk-off mood because large Tech assets, such as Apple and Microsoft are the safest stocks on the market and so investors are shying away from riskier assets to large, safe stocks.
Contested Election
Early in the morning, both Biden and Trump gave speeches to update their supporters. Biden's was a very low-key affair where he reiterated that he and his team were confident that they had done enough to win in Wisconsin and Michigan. Trump, on the other hand, claimed a premature victory and went on the attack by saying that he wanted all voting to stop and that he would be going to the US Supreme Court. In what is clearly part of the Trump playbook, he is worried that a 'Blue Shift' could take place and he could see his leads in Wisconsin, Michigan and Pennsylvania wiped out over the coming few days. This is the clearest signal yet that the election could be contested, and if Trump does go on to lose due to mail-in ballots, and makes good on his threat to go to the Supreme Court then this could lead to uncertainty for the markets for months to come. Al Gore's contest of the 2000 US election, which took place on 7th November, was settled by the Supreme Court as late as 12th of December. The general consensus is that investors would seek the safe haven dollar until the uncertainty subsides.
Senate and House
The Democrats have not seen a 'Blue Wave' and it looks likely that the Senate will remain in Republican hands. Lindsey Graham managed to hold off Jamie Harrison in South Carolina early in the night, to deliver an early blow for the Democrats and although they managed to flip Colorado and Arizona, they lost out in Alabama. It looks likely the Democrats will gain only one seat, but they needed three to get in the majority. A divided congress (if Biden manages to win the Presidency) is bad for markets because it looks less likely that a $2.2 trillion fiscal stimulus bill will be passed. Mitch McConnell has pushed a very hard line in recent months over fiscal stimulus, and even as recently as two weeks ago he tried to push a stimulus bill worth only $500 billion into the Senate.
The House of Representatives, which had a commanding democratic majority, looks like they will maintain control although have done worse than polls originally predicted, losing two districts in Southern Florida.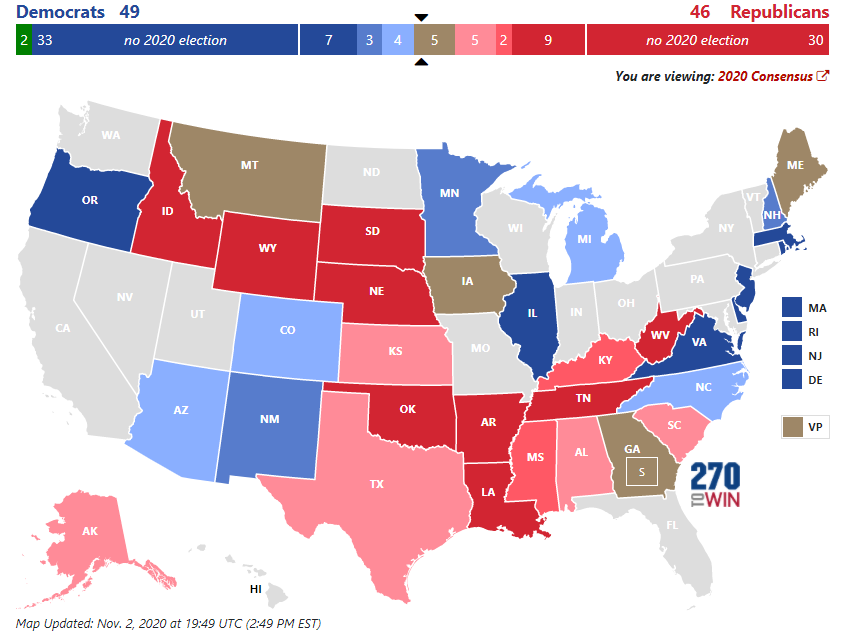 Figure 3: US Senate Map, the Democrats are unlikely to make more gains
In Summary, the most important US election for a generation will be prolonged to Friday at the earliest. The key states are Georgia and Wisconsin (where analysts believe that Biden has a slight edge), and Michigan and Pennsylvania (where Trump has a slight edge). Biden only needs to win two of these states to claim the Presidency, but his lead in Wisconsin, at time of writing is just 9,000 out of 3.2 million votes cast, and Trump is still ahead in betting markets. Markets, as expected are incredibly volatile, and investors are taking haven in safe assets including the dollar.