Morning Report
Morning Report – Wednesday 19th August
Main Headlines
China, the world's biggest oil importer, has ramped up purchases of American crude in the lead-up to a highly anticipated review of the trade deal between the two economic powerhouses. The surge in bookings comes before a review of the phase-one trade deal, under which China pledged to boost purchases of U.S. commodities. The talks, which were originally planned for last weekend, have been postponed amid deteriorating relations between the two countries.
Stocks traded mixed in the wake of a fresh all-time high on Wall Street. U.S. and European equity futures rose. Hong Kong shares saw losses when trading resumed, with the market's morning session cancelled due to a typhoon. Shares rebounded in South Korea from Tuesday's slide and Australia outperformed. Dampening sentiment were lingering questions over the future of the U.S.-China trade pact after President Donald Trump said he called off last weekend's trade talks. S&P 500 contracts climbed after the gauge closed above the previous Feb. 19 all-time high. Treasuries ticked higher.
GBP
The pound hit nine month highs versus the dollar overnight, driven by weakness in the U.S. currency, but analysts were cautious about the outlook for sterling as a new round of Brexit talks began. It's a dramatic turnaround for sterling, which plummeted in March to the lowest level in more than three decades. Against the euro, sterling is still finding it hard to gain momentum.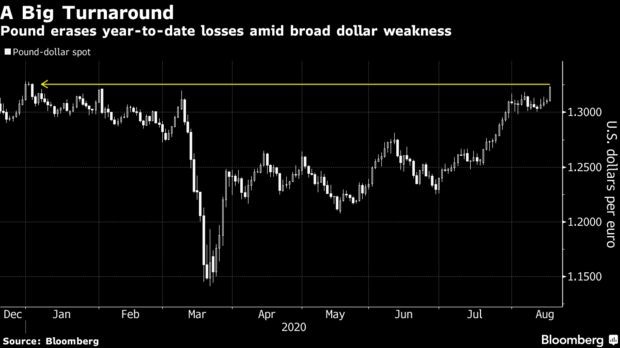 EUR
The euro has touched levels not seen against the dollar since May 2018 overnight amid the relentless selling around the US dollar. Market participants now look forward to the final Eurozone CPI print for some trading impetus. The key focus, however, will be on the release of the latest FOMC meeting minutes which will play a key role in defining short term price dynamics.
USD
The dollar edged slightly higher on Wednesday after slipping to 27 month low the previous session, but uncertainties about the U.S. economic recovery and a new fiscal stimulus package continued to weigh down the market. The dollar hit fresh lows against most major currencies overnight as the Federal Reserve's stimulus programmes weakened the greenback broadly and lifted U.S. stock indexes to record highs. The Fed's programmes have pushed riskier assets to all-time highs and reduced demand for safe-havens, even as economic data has painted a bleak picture of the U.S. recovery. Investors are awaiting the release of the minutes from the July 28-29 FOMC meeting today, with speculation the Fed will adopt an average inflation target, which would seek to push inflation above 2% for some time.
Main Economic Data/Central Banks/Government (All Times BST)
7:00 a.m.: UK Consumer Prices Index
7:00 a.m.: UK Retail Price Index
10:00 a.m.: Eurozone Inflation
FOMC Minutes